Following the recent near-crash accident involving Dana air, the Federal Government has vowed to closely monitor the operations of Dana Air and other air operators in the country.
The Minister of State for Aviation, Hadi Sirika, said this on Thursday during a visit to the site where the Dana plane ended up after overshooting the runway
Sirika said the Nigeria Civil Aviation Authority (NCAA) has been mandated to heighten safety oversight of Dana Air, thoroughly following up their air operational activities.
"We want to ensure the general public that the government is conscious and aware that transportation, especially by air remains the safest means of transportation. The Nigeria Civil Aviation Authority (NCAA) whose duty is to oversight the aviation sector have been mandated to heighten safety oversight on Dana Air and to ensure their operational efficiency and competence.
"The whole company, their plane, their equipment of use, their maintenance, their operations, the proficiency of airmen working with the company. And then, of course, to straightaway come up with their findings and they have the freedom and autonomy to do what is provided by law," he said.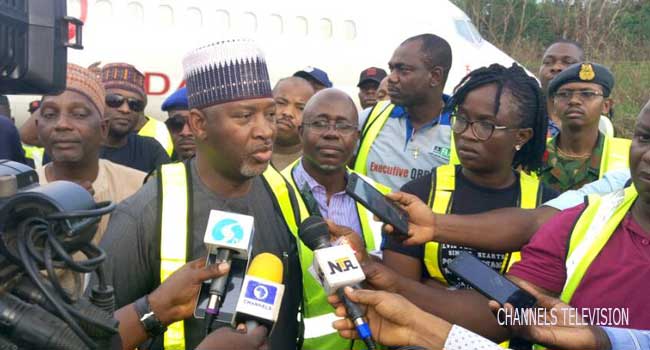 The Minister who noted that Nigeria recently scored high in safety in its air operations with certification of two Nigerian airports recently.
"For the first time, Nigeria certified two airports and the only African country including Egypt and South Africa that certified two airports (Lagos and Abuja) at the same time and we are not stopping."
READ ALSO: CPC Demands Action As Dana Air Plane Overshoots Runway
The Federal Government has earlier announced the commencement of an investigation into the accident. The investigation is being carried out by the Accident Investigation Bureau (AIB).
AIB under the Federal Ministry of Transportation is set up to investigate any civil aircraft accident and serious incident in Nigerian airspace. It is aimed at improving aviation safety by determining the circumstances and causes of air accidents in Nigeria.
The plane belonging to Dana Air on Tuesday, February 20 was involved in an accident. This was after it overshot the runway in Port Harcourt Airport while flying from the Nnamdi Azikiwe International Airport in the nation's capital Abuja.
The aircraft had the following details: 5N-SRI, flight number: 0348, Type: MD 83. 54 passengers were on board including five crew members. Everyone on board were evacuated safely and no reported casualties. The weather condition was rainy.
The post FG Vows To Monitor Airlines Closely After Dana Air Mishap appeared first on Channels Television.